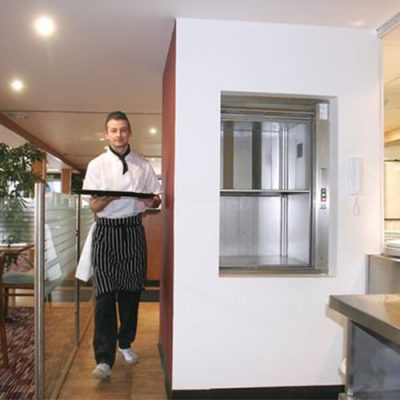 DUMBWAITERS
The dumbwaiter is an electromechanical elevator without machine room. They are the ideal solution for lifting small loads such as clothes, food, documents and other small items.
They are mainly used in restaurants, cafes, offices, warehouses, hotels as they facilitate transportation from floor to floor. These are certified systems, according to European legislation.
In cases where there is no manhole in the building to be fitted with the small load lift, it is also available with a special shaft construction.
Dumbwaiters: Technical Specifications
The chambers are made of INOX and are suitable for use in health care stores. They are silent and can be used safely even by non-qualified personnel. The dumbwaiter has:
Suspension 1: 1, compact construction and fully automatic operation
Maximum payload up to 150kg (there is the possibility to reach 200kg with special design)
Maximum route up to 35m (8 stops)
Maximum operating speed of 0.37m / s (special speed can be 0.25 or 0.48)
Fast and easy installation with space saving
Small Load Lifts: Plumbers
Hydraulic small cargo lifts cover a wide range of transport from food to safes. These systems have high load resistance and hard working conditions and guaranteed performance, and follow the legislative framework and are CE marked.
As far as their technical characteristics are concerned, they have:
Suspension

 1:2

Payload from 100 to 1500 Kg
Platform up to 2000x1600mm
Maximum travel up to 11.5m (4 stops)
Maximum operating speed 0.15 m / s
Easy and fast installation in exterior and interior
Possibility of manually unloading the load in case of power failure